Commercial Security Systems
We provide you with expert inspections & professionally installed, police-endorsed, 100% warrantied security solutions
Commercial Security That Fits Your Needs
We will determine your risks and needs, listen to your concerns, and can install a complete line of security gates, barriers, overhead door gates, expanding / retractable gates, window guards and steel security enclosures. Our folding gates retract completely out of sight when not in use. We'll let you know the advantages and disadvantages of any alarm system and physical security solution, and how they compliment each other.
Metalex security products are installed in manufacturing plants, warehouses, retail & convenience stores, malls, and hundreds of commercial and industrial locations. We've been helping businesses like yours stay safe and secure since 1986. See testimonials & articles about our trusted solutions.
Unlike a film, RockGlass sheets are a virtually unbreakable perimeter security measure. They are:
• Up to 200X stronger than glass
• Virtually unbreakable
• Shatter proof
• Abrasion & chemical resistant
• Easy to clean (graffiti removal)
RockGlass can be Retrofitted onto existing window & door frames. The installation process is quick and easy.
RockGlass protects your windows from breaking.
RockGlass is made from a proprietary blend of epoxies, high- density polymers, high-impact polycarbonates, and our titanium- hard coating – which produces a glass-like shell for protection against regular buffs and scratches.
It is ideal for, but not limited to:
• Windows and glass doors
• Balcony and deck rails
• Garage overhead glass doors
• Heavy equipment glass protection
All of our products are rigorously tested, so you can rest assured that you're getting a top-of-the-line, functional security product for your home or business.

Why Use RockGlass on Schools & Daycares
Windows do wonders in a class environment. The brightness and openness they create is conducive for learning and overall morale. But in times of a crisis, windows can also become a liability.
To ensure they do not become one, utilizing RockGlass and SecureAll Screens on school windows can serve as a critical layer of perimeter security. Having security measures on the classroom windows and exterior entrances of a school can help prevent the entry of an armed and dangerous intruder
Why Use RockGlass on Schools & Daycares?
• Prevent after-hours break ins & theft
• Protect staff & students
• Protect children from broken glass
• Improve energy-efficiency
• Reduce outside noise pollution
Our Retrofit Framing System fastens seamlessly over your existing windows & doors.
There's no need to uninstall the original glass when using our RFS. Making for a quick & easy installation process.
The Many Benefits of RockGlass
Strength & Durability
RockGlass is up to 200 times stronger than ordinary glass. It is virtually-unbreakable, impact resistant, and shatterproof.
Longer Product Life
The durability of a product determines its lifespan, and RockGlass was built to last a building's lifecycle.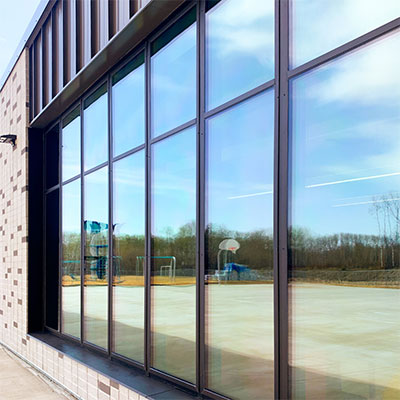 Safety & Security
RockGlass adds a virtually-unbreakable layer to perimeter security and reduces the risk of broken-glass-related injuries.
Flexibililty
RockGlass is far more flexible than glass. It has the ability to organically curve and take shape of the building without breaking.
Colour Films
Colour films can be various shades of red, orange, yellow, green, turquoise, blue, violet, pink, and more!
Heat Resistance
RockGlass can be exposed to 220° for several hours, or sudden bursts of extreme heat without distortion or heat absorption.
Thermal Efficiency
RockGlass has a higher R-value than glass, meaning it stabilizes and evenly distributes the temperature of your space.
Lightweight
Not only is RockGlass stronger than ordinary glass, it's also lighter! It is half the weight of the standard window material.
Metalex Also Offers The Following Commercial Security Products
Award Winning Products & Services
The Sign of a Trusted Home Service Pro
HomeStars Verified home service pros have successfully passed our rigorous screening process to help you hire safer and smarter.
HomeStars Best of Award Winner 2021
The Best of Awards are HomeStars' way of recognizing the businesses on our platform who demonstrate consistency, professional integrity and unparalleled customer service. 
Love the sliding screen option no view obstruction now by screen !
Jason the install fella was a lovely young man from the moment he contacted me to his detail to ensure everything went smoothly
Dar
We had a similar product in our previous home and were delighted to find Metalex carried something very similar. Love the front screen/security door as well as 2 patio sliding doors. Will be great in warmer weather to get a cross breeze of fresh air without worrying about security issues esp at night.
Install was quick and professional. Not cheap but well worth the expense
Unnamed Customer
From beginning to end product and service exceeded my expectations. All staff were friendly, helpful and accommodating. Installation was perfect and I love the product.
Really great experience.
Sprye
This is the second project Metalex has done for me, as I had my own security storm door and screen installed in 2016. This time it was for my Mom, 2 security storm doors, security screen and security bars. Excellent products, workmanship and customer service. Love the end result.
Elena R.
Protecting Canadian Families and Businesses for Over 35 Years!
Tom Reimer established the business in 1986 after a personal experience of having to break into his own home after losing his keys. The point of entry was through the basement window which provided easy access.
It became immediately obvious that the basement windows were very vulnerable to break and enter. Tom devised a metal window guard for his windows and, subsequently, half the neighbourhood! Hence, Metalex Security Products was born.