Safe-T-Screen Security Systems
Secure your home with Safe-T-screen and never worry about your home security again.

CAREFREE VENTILATION
Sleep with your windows open, without the fear of an unwanted intruder entering your home
UNOBSTRUCTED VIEW
Enjoy Unobstructed views while protecting against home invasions, break-ins & unwanted wildlife.
WONT RUST OR CORRODE
Safe-T-Screen is made from stainless steel so it won't rust or corrode from the elements and harsh Canadian winters
UV PROTECTION
Blocks an average of 60% of harmful UV rays, reducing the fading of the painted exterior of your doors and windows
Security with a Touch of Elegance
Enhance the appearance of your home while providing security and peace of mind. Heavy gauge steel screen ensures the most reliable protection against intruders.
Custom-fitted to your specifications, our Safe-T-Screen doors and windows allow care free ventilation and air flow. This can mean huge savings on your energy bills.
Why Secure Your Home?
Protect your loved-ones and your valuables
Can lower homeowner insurance
Improves energy efficiency
Peace of mind!
This warranty covers all parts and labour for 10 years on Safe-T-Screen Doors
Available In A Wide Range Of Colours

Fits perfectly with your existing doors and windows!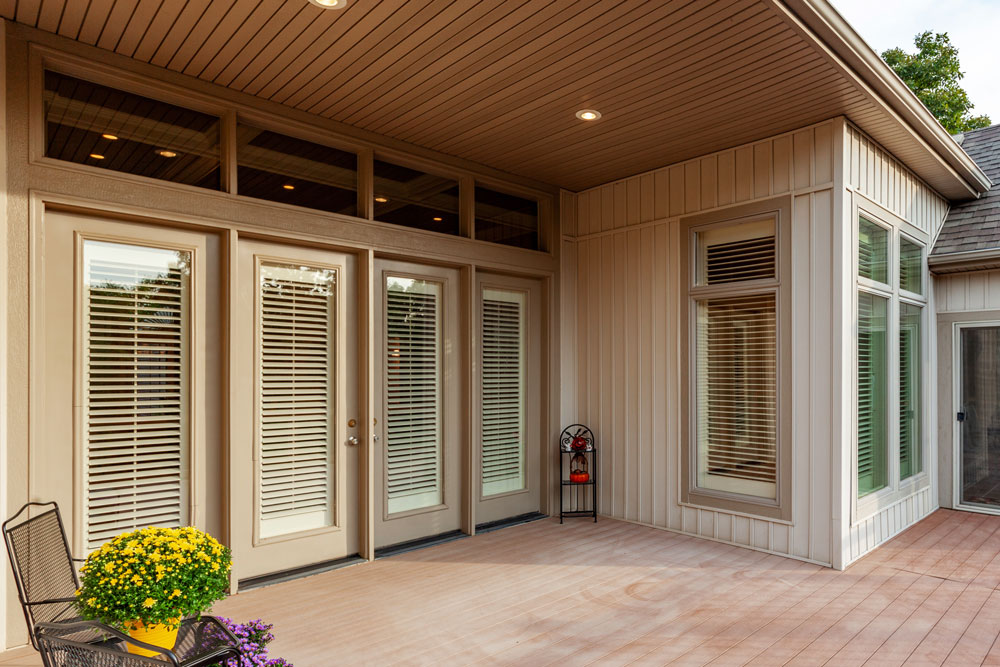 Click the image to see before and after Safe-T-Screen Installation
You can sleep with your windows open, without the fear of an unwanted intruder entering your home
Provides protection against home invasions and break-ins.
Allows ventilation with a clear view Protects the existing window's glass unit from flying objects in tornado and high wind conditions
Protects window glass from vandalism
Cannot be cut with a box cutter or similar knives
Withstands the impact of sledgehammers, hammers, crowbars, baseball bats and other typical break and enter tools
Screens out flies, mosquitoes and other insects
Blocks an average of 60% of harmful UV rays, reducing the fading of the painted exterior of your doors and windows
Reduces glare
Pet proof. Dogs, cats and other domestic animals cannot chew or claw through the mesh
Will resist entry by unwanted wildlife allowing you to leave your doors and windows open for fresh air
Will not rust or corrode
Stainless steel mesh is mounted into a unique clamping system then spot welded and stitched screwed into our structural aluminum frame.
Patented tension mounted screen fastening system's vice like grip prevents the screen from being pulled away from the frame providing you with the ultimate security screen door
Multi-Point Locking System

The 3 point European security multi point locking system prevents the doors and windows from being pried open
Award Winning Products & Services
The Sign of a Trusted Home Service Pro
HomeStars Verified home service pros have successfully passed our rigorous screening process to help you hire safer and smarter.
HomeStars Best of Award Winner 2021
The Best of Awards are HomeStars' way of recognizing the businesses on our platform who demonstrate consistency, professional integrity and unparalleled customer service. 
Love the sliding screen option no view obstruction now by screen !
Jason the install fella was a lovely young man from the moment he contacted me to his detail to ensure everything went smoothly
Dar
We had a similar product in our previous home and were delighted to find Metalex carried something very similar. Love the front screen/security door as well as 2 patio sliding doors. Will be great in warmer weather to get a cross breeze of fresh air without worrying about security issues esp at night.
Install was quick and professional. Not cheap but well worth the expense
Unnamed Customer
From beginning to end product and service exceeded my expectations. All staff were friendly, helpful and accommodating. Installation was perfect and I love the product.
Really great experience.
Sprye
This is the second project Metalex has done for me, as I had my own security storm door and screen installed in 2016. This time it was for my Mom, 2 security storm doors, security screen and security bars. Excellent products, workmanship and customer service. Love the end result.
Elena R.
Protecting Canadian Families and Businesses for Over 35 Years!
Tom Reimer established the business in 1986 after a personal experience of having to break into his own home after losing his keys. The point of entry was through the basement window which provided easy access.
It became immediately obvious that the basement windows were very vulnerable to break and enter. Tom devised a metal window guard for his windows and, subsequently, half the neighbourhood! Hence, Metalex Security Products was born.